Prime Minister Nguyen Xuan Phuc attended the opening ceremony at Hai Phong International Container Port
---
Prime Minister Nguyen Xuan Phuc attended the opening ceremony of Hai Phong International Container Port on May 13, 2018
Singapore's first international container ship to Hai Phong International Container Terminal (HICT)
Prime Minister Nguyen Xuan Phuc cut the opening of Hai Phong International Container Terminal
Hai Phong City Port welcomes May 13 history in the joy, pride of those who land the port. Together with the joy of each Vietnamese, we are building the country on the path of modernization, bringing our country "to shoulder with the great powers of the five continents," as our beloved Uncle Ho reminded us . Hai Phong is becoming a major port city of Vietnam and the region, with the strategy of enhancing competitiveness and expanding seaports for development, Lach Huyen International Container Port today. The opening ceremony to welcome the first shipment.
1.
Model and stature of Lach Huyen International Container Terminal - Hai Phong
Hai Phong International Container Port (HICT) is a joint venture between Sai Gon New Port Corporation (51% owned by the Saigon Newport Corporation), MITSUI OSK Lines Japan Limited (holding 17.5%), Taiwan Lines (holding 16.5% of capital) and Japan Itochu Group (holding 15% of capital).
Schematic diagram of Huyen Port - Hai Phong
HICT port is located in Cat Hai town, Cat Hai district, Hai Phong city and is the first deep water port in the northern key economic area. The port receives 14,000-TEU container ships with combined tonnage of up to 16,000 DWT bringing North-South import and export cargoes directly to Europe and the Americas on the mother ships instead of transiting through one. Other port as before.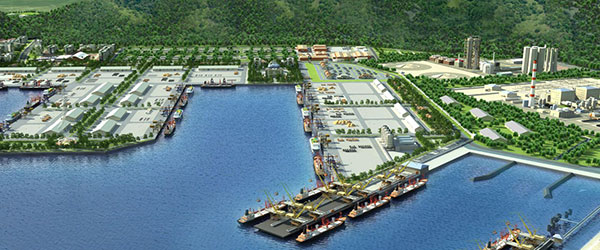 Diagram of Block B, Lach Huyen Port, Hai Phong
Infrastructure and technology of container handling, warehousing and maritime services at HICT are invested synchronously and as modern as; Pilotage services, professional towing. HICT port will contribute to reduce shipping costs, thereby reducing logistics costs for enterprises, increasing the competitiveness of Vietnam's export and import goods. At the same time, to create motivation for the development of deep-sea port system and logistics activities in the North and promote the socio-economic development of the country.
The HICT port is built on an area of ​​44.9ha, with a depth of 16m; The quay is 660m wide and 14m deep (no tidal). Two container terminals totaling 750m in length accommodate 14,000 TEU container ships, 160,000 DWT composite vessels. Dock, barge berth 150m long receive receiving ships, barges carrying containers to 160Teus.
In his speech at the opening ceremony, Prime Minister Nguyen Xuan Phuc sent his thanks to the people of the city, local authorities, businesses, the Japanese government for their support and support. To create conditions for Lach Huyen deep water port to go into operation.
2.
First container ship to Hai Phong International Container Port (HICT)
Wanhai 517 Length 259m - Horizontal 37m - Capacity 58000 tons - Singaporean citizenship is in Hai Phong International Container Port (HICT)
Arrive at the first container port at Lach Huyen International Port
Binh Minh Marine Investment & Development JSC.
Address: 452 Le Thanh Tong, Ngo Quyen District, Hai Phong City
Hotline: +84.904 003 898
Email: binhminh-jsc@vnn.vn
Website: www.vantaibinhminh.com